Presented by Boogie Groove Entertainment
Wildfire & Climate Change Concert Benefit
October 26, 2021
About This Show
7:30pm-12:30am
Doors: 7:00 pm
21+
Tickets at www.YourMomsHouseDenver.com
100% of ticket sales after expenses and 100% of raffle and silent auction proceeds go to Volunteers For Outdoor Colorado!
Volunteers for Outdoor Colorado (VOC) is the state's oldest outdoor stewardship nonprofit organization. Since 1984, we have been motivating and enabling people to become active stewards of Colorado's natural resources.Each year, we engage thousands of people to provide a volunteer workforce for recreation and habitat improvement projects in partnership with land agencies, nonprofits, and community groups. These volunteer projects take place in every corner of Colorado and over the decades, we've grown beyond our projects - and our borders - to help others start and improve their own volunteer stewardship programs and inspire all of us to find our place in caring for the outdoors.
Off World Vehicle
https://www.facebook.com/offworldvehicle
https://www.instagram.com/off_world_vehicle/
https://www.youtube.com/watch?v=Vl584h6-v30&t=4667s
Space Rock group based in Denver,CO. Playing other worldly jazz fusion, focusing on heavy improvisation, and dance beats. Playing a solid list of original material along with a slew of fun covers.
Blooming Fire
https://www.facebook.com/bloomingfire/
https://www.instagram.com/bloomingfiremusic/
https://open.spotify.com/artist/0VYArkTqXDN4i9o9JOq5by?si=IIsrF1TwR2qBPFEV71KIsw&dl_branch=1
Blooming Fire is a brother-sister fronted, activist-charged, alternative band who's known as a "Voice of Nature." They hope to inspire fans to get outside and connect with Mother Earth! Raw vocals, psychedelic guitar, in the pocket beats and bass driven tracks sets this family band apart.
Stone Riot
https://www.facebook.com/stoneriotmusic
https://www.instagram.com/stoneriot/
https://www.stoneriot.com
It happened like any other occurrence could ever happen. In its own time, on its own terms. An energy was set into motion that would affect only those that recognized its source. From that energy the strings began to vibrate and the vocal chords began to expand and contract. Remaining true to the laws of physics it became more abundant in power. Nothing would stop it. Only those that knew its source could feel it.
Wynona
https://www.facebook.com/search/top?q=wynona
https://www.instagram.com/wynonamusic/
Music Link: https://wynona.bandcamp.com/
Short Bio: Guitar based rock music from Laramie, Wyoming
Presented by Boogie Groove Entertainment
[image]
Upcoming Events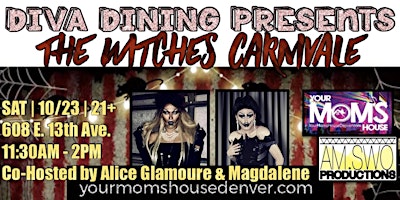 Boogie Groove Entertainment Presents
Life is But a Cabaret: A Drag Show Brunch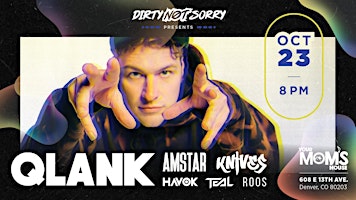 Boogie Groove Entertainment + Dirty Not Sorry Present
Dirty Not Sorry Presents: Qlank + More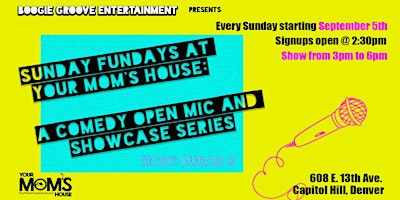 Boogie Groove Entertainment Presents
Sunday Funday: Comedy Open Mic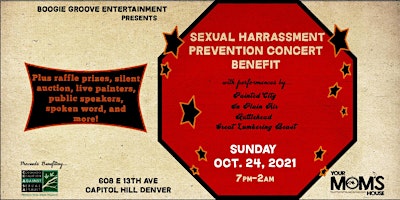 Presented by Boogie Groove Entertainment
Sexual Harassment Prevention Concert Benefit