Boogie Groove Entertainment Presents
SHVR!KN + Friends
April 8, 2021
Boogie Groove Entertainment Presents
SHVR!KN + Friends
April 8, 2021
About This Show
SHVR!KN + Friends
6:00pm-11:00pm
21+
Tables available for purchase at www.yourmomshousedenver.com
YMH will be following all guidelines under the Colorado's re-opening order for restaurants.
We will be selling tables for this event. ALL SALES ARE FINAL. Review your order carefully, there are no refunds for any reason.
Limited Capacity | Masks Required
Social Distancing | Assigned Tables
Temperature Checks
Please stay seated at all times unless going to the bathroom or getting food and do not mingle with other groups.
Bathrooms are limited to 2 people at a time. They will be cleaned hourly.
If at any time we observe you disrespecting the protocol, you will be asked to leave. NO EXCEPTIONS
Must arrive by 7:00pm or we reserve the right to resell your table
Artists:
SHVR!KN
https://soundcloud.com/user-830784432
SHVR!KN is a new trio based out of Colorado, that consists of best friends and fellow artists 8B@LL, Tempura!, & Enuf Dubz. All 3 being stand out Producers and DJs who make their own style of music individually but come together to make heavy hitting bass music as SHVR!KN.
Ashtrology
https://soundcloud.com/ashton-erdmann
Ashtrology is an up and coming super star from Denver,CO.
Twopercent
https://soundcloud.app.goo.gl/oPnPCt4wQJpv1fRT7
Twopercent is a Denver based EDM producer that combines low wubs and hard hitting trap beats that makes for energetic free form and experimental bass music.
DjRoit
https://soundcloud.com/djroit
A fixture in the Colorado DJ community since 2015, DjRoit has performed at various venues and events, including The Fox Theater in Boulder. She has opened for some of the biggest rising stars in Electronic Dance Music, including GRiZ, Boogie T, Jauz, Dion Timmer and many more. Perhaps most famous for striking gold with her mashup, Backseat Summer and has attained over 6 million plays worldwide on Soundcloud. DjRoit is a veteran with a wide variety of experience, having played nightclubs, graduation parties, private events, festivals, and created many of her own remixes, mixes, and playlists.
YOTODUBZ
https://soundcloud.com/user-yotodubz
We are a duo based out of Denver, we want nothing but to have fun and make the most out of everything. We are very thankful for not only the people putting on this event but also the people that support us and our music.
Your Moms House Denver is implementing all required and suggested COVID-19 prevention measures put in place. However, we can NOT however guarantee a 100% pathogen free environment. PARTY AT YOUR OWN RISK!
By purchasing this ticket, you agree to not hold YMH liable for any and all damages and injuries; this establishment, any and all companies, individuals, organizations, or entities otherwise involved in the production of todays events; legally, financially or otherwise.
Live Streamed at Twitch.tv/yourmomshousedenver
Presented by Boogie Groove Entertainment
Upcoming Events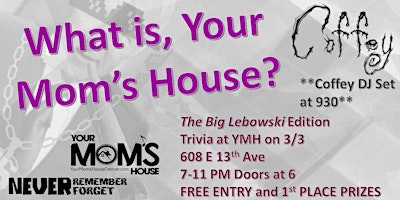 Boogie Groove Entertainment Presents
What Is, Your Mom's House? (Trivia Night) 3/3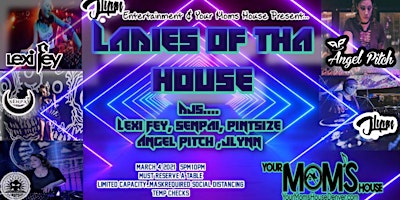 Boogie Groove Entertainment Presents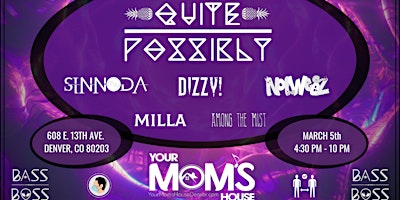 Boogie Groove Entertainment Presents
Chapter III (Bass Boss Anniversary)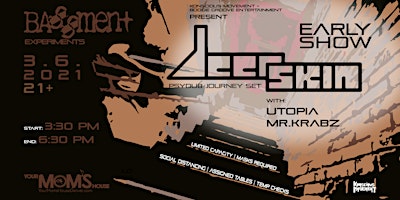 Presented by Boogie Groove Entertainment
BASSment Experiments ft. Deerskin w/ Utopia + Mr.Krabz (Early Show)