Presented by Boogie Groove Entertainment
PUZZLED
August 21, 2021
Presented by Boogie Groove Entertainment
PUZZLED
August 21, 2021
About This Show
PUZZLED
5pm-2am
Doors: 5:30pm
21+
HOT NEWS! We are stoked to announce that we will host the amazing British party concept PUZZLED at Your Mom's House on Saturday 21st August 2021 for 9-hours of Disco, House & Techno.
After a busy 19-country world tour pre-Covid, flying in from the UK 🇬🇧 will be Ben Spalding (record label boss of PuzzleProjectsMusic) - who will be headlining the night with a pumping Tech house and Techno set showcasing his unreleased music.
Joining Ben will be the brilliant 🇺🇸 DJ & Producer Jeff Haze and 5 Denver artists.
Set times announced 48 hours before the show.
Want more information? Keep going down, baby
……………………………………………………………………………….…………………………………………………………………….…………………………………………………….…………………
PUZZLED Puzzled is the brother to the repeatedly chart-topping record label PuzzleProjectsMusic ran by Ben Spalding. Puzzled is a naughty nomadic party concept that focuses on very high-quality underground music, depending on the length of the party (which can be anywhere from 4-48 hours long) - focuses on all shades of underground Disco, House & Techno music. Equal energy is put into room production, lighting programming and the whole experience.
2019 - Shows included: 🇺🇸 NYC, 🇳🇴 Norway, 🇬🇧 London, 🇸🇪 Sweden, 🇦🇺 Australia, 🇸🇬 Singapore, 🇦🇽 Aaland Islands
2021- Shows include: USA 🇺🇸 tour, Mexico 🇲🇽, Canada 🇨🇦, Aaland Islands 🇦🇽, London 🇬🇧, Australia 🇦🇺, Ibiza 🇪🇸 & Singapore 🇸🇬.
CONNECT: https://linktr.ee/PuzzledOfficial
……………………………………………………………………………….…………………………………………………………………….…………………………………………………….…………………
Ben Spalding (PuzzleProjectsMusic)
A Londoner now based in Norway, over the last decade, Ben Spalding is a DJ, producer and label owner who has performed at music events in 35 countries.
Musically, Ben grew up on a diet of Motown, soul and disco from his Mum and classical music via his Dad. In his teens he discovered the raw power of hip hop and drum'n'bass and his twenties were a riot of disco, house and techno. All of these flavours coalesce into his current output and the eclectic sounds that emerge from his chart-topping label PuzzleProjectsMusic.
2019 was a huge year as Ben embarked on a world tour, hitting 19 countries in nine months, playing sell-out shows across Europe, Asia and Australia. His global antics have also taken him to festivals such as Coachella. Plans for 2021 include a tour of the USA, Mexico and Canada followed by a debut tour in South America and return tour of Asia, plus many more locations to be confirmed.
Ben is also the man behind PuzzleProjectsGroup which operates a number of progressive concepts dedicated to music, artists and vibes including PuzzleProjectsMusic and the nomadic party concept PUZZLED.
2021 sees Ben release multiple house and techno EPs with Berlin-based Producer Ronald Christoph, kicking off with 'The Ego Death' EP in April 2021.
CONNECT: https://linktr.ee/BenSpaldingOfficial
……………………………………………………………………………….…………………………………………………………………….…………………………………………………….…………………
Jeff Haze
With his music supported regularly by Mark Farina, Jeff Haze is a prolific Amercian house music producer with releases on labels including; Minority Music, The Factory, Midwest Hustle Music, Phobic, Soluble, Blatt Trax, 1200 Traxx, Pinup, Union Recordings, Smoke City, Trendy Mullet, Greenhouse, Stovetop, Fazed, Blockhead, Digifunk, Filthbox, Nightrain, Roundhouse, Motion Music, Manyoma. Total House, Wetsuit, Ficus Tree, Soluble, Full House Digital, Simon Life Music, Juiced, Aspect Audio, Deep Hype Sounds. CONNECT: https://soundcloud.com/jeffhaze
……………………………………………………………
FIVE Denver Artists TBA too!
YMH will be following all guidelines under the Colorado's Re-opening order for restaurants.
ALL SALES ARE FINAL. Review your order carefully, there are no refunds for any reason.
Limited Capacity | Masks Required | Social Distancing | Assigned Tables | Temperature Checks
Bathrooms are limited to 2 people at a time. They will be cleaned hourly.
If at any time we observe you disrespecting the protocol, you will be asked to leave. NO EXCEPTIONS
Live Streamed at Twitch.tv/yourmomshousedenver
Help keep YMH alive here: https://PayPal.me/YourMomsHouseDenver
Grab some YMH swag here: https://yourmomshousedenver.square.site/
Presented by Boogie Groove Entertainment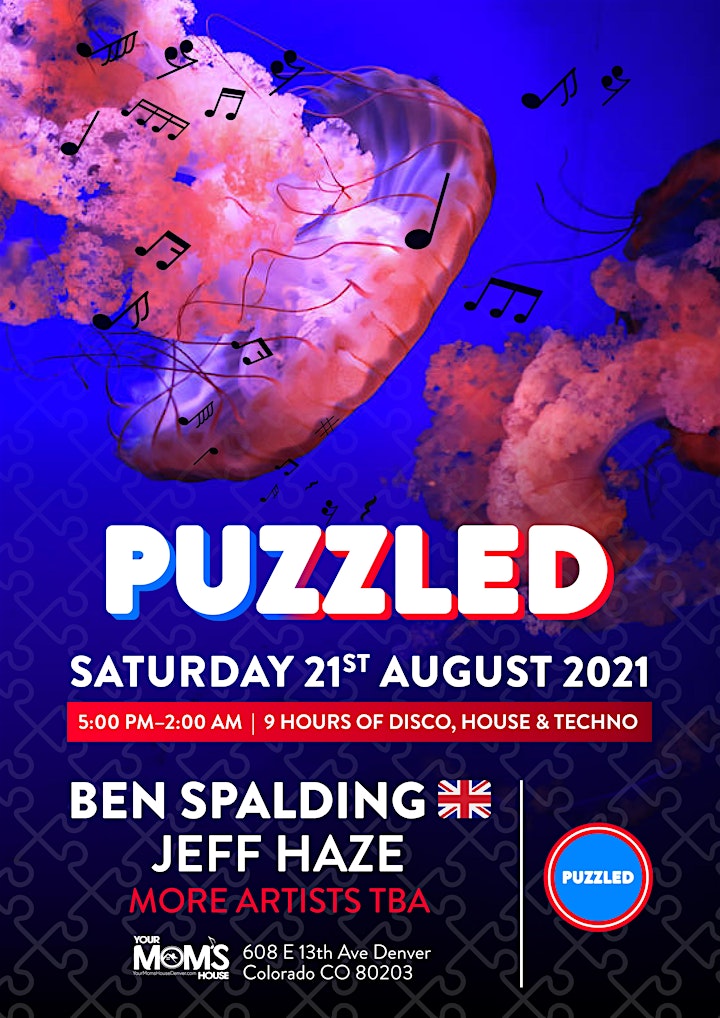 Upcoming Events
Boogie Groove Entertainment Presents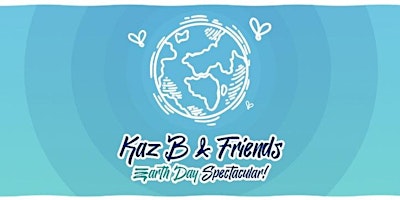 Boogie Groove Entertainment Presents
Kaz B & Friends Earth Day Spectacular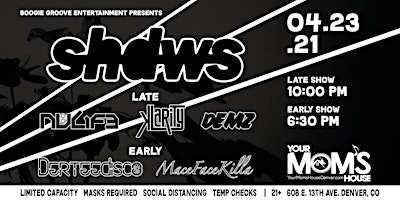 Boogie Groove Entertainment Presents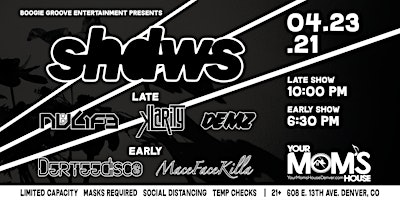 Boogie Groove Entertainment Presents