Coastless Creative Presents
Organic Dystopia
December 4, 2021
About This Show
08:00pm - 2:00am
Doors: 7:30pm
21+
Tickets at www.YourMomsHouseDenver.com
Organic dystopia is a meow wolf inspired concept show being held at your mom's house on december 4th, 2021
The idea of the show is that it takes place in a post apocalyptic forest where each band inhabits a different part of the forest with it's own vibe. Meaning every band has different visuals on the projector based on the aesthetic of their music and different lighting.
We will be using set design to make the show more immersive as well as tarot card reading, a photo booth, a giant color by numbers page, and a nail painting station.
We are creating an immersive experience and a unique event for the audience.
Artist
Yugs
https://www.facebook.com/yugsmusic
https://www.instagram.com/yugs__/
https://linktr.ee/yugsmusic
Yugs is a Denver based producer who specializes in making dreamy, grounding and genre pushing lofi music to close your eyes to. Influenced by Nujabes, J Dilla, and Tame Impala, Yugs' goal is to make music that can give people a positive outlet, something both to relax and jam to during hard times.
ii/lo
https://open.spotify.com/artist/021Xr8IrEYBBXrM1VJaJaZ?si=KVVEGub_TBO221eVl5WAQw
ii/lo is a denver based artist who pulls most of her inspiration from what feels most genuine to her- her personal experiences. she will give you raw emotion, the bitter truth, and hidden feelings in her lyrics. she will take you on a journey of what heartbreak feels like, what falling for your best friend feels like, what aching to be there for someone feels like, and most importantly, what this crazy thing called life feels like to her. join her on this journey to unlock feelings you never knew you'd feel.
Louphonic
https://www.instagram.com/louphonic/
https://www.facebook.com/louphonic
https://www.youtube.com/channel/UCQ3RoqBqo0t1tY9G_T0Zrjw?view_as=subscriber
Denver funk trio Louphonic cultivates a light-hearted and musically rich experience consisting of original songs, jazz standards, and covers of popular R&B hits. The band also collaborates with various musicians and artists in the area to create more inclusive and engaging works of art. Louphonic specializes in executing live performances that get the crowd dancing and enjoying themselves.
Dog Tags
An electric songwriting duo that talk to one another through their music.
Regi Worles and Micheal Merola bring the freshest R&B to Denver playing as a full band or a duo. Their silky smooth vocals and wavy guitar riffs are sure to make anyone fall in love.
Trusetto
https://open.spotify.com/artist/6F351CpgmWZZI9KZ2aoSjl?si=gp7RuubZQIm42S-VapbjFw
Trusetto is a 7 piece melodic jam group from Denver, CO. We hope our sound resonates with listeners from all backgrounds and musical tastes as each of us adds a different flavor to the music; ultimately creating a blend of rock, pop, funk, jazz, blues, soul, and even bluegrass.
Mellowpunk
https://open.spotify.com/artist/4JTLxA0nEgl3Qii5DLDwfM?si=8Udn7FMUTRSxWSkF3gWt0w
Mellowpunk is an indie band originating from Boulder, CO,
made up of four friends who met while attending The University Of Colorado, Boulder.
Presented by Coastless Creative
Upcoming Events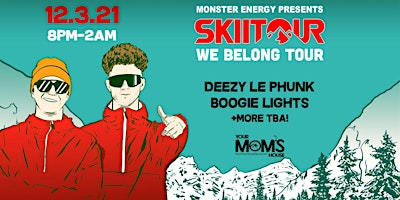 Boogie Groove Entertainment Presents
SkiiTour w/ DeeZy Le PhuNk | Boogie Lights + More!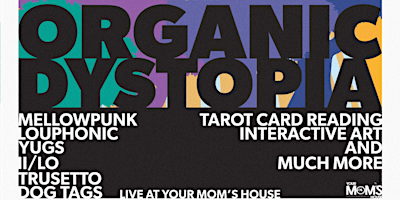 Coastless Creative Presents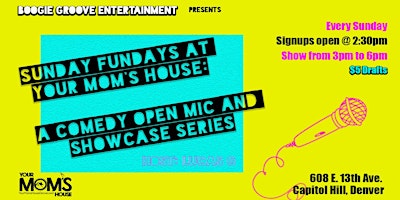 Boogie Groove Entertainment Presents
Sunday Funday: Comedy Open Mic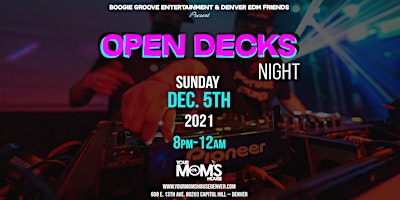 Denver EDM Friends Presents
Denver EDM Friends Open Decks Night