Boogie Groove Entertainment Presents
Notixx (Main Show)
June 11, 2021
Boogie Groove Entertainment Presents
Notixx (Main Show)
June 11, 2021
About This Show
Notixx (Main Show)
7:00pm-10:00pm
Doors: 6:30pm
21+
Tickets available for purchase at www.yourmomshousedenver.com
YMH will be following all guidelines under Colorado's 5 Star Program.
ALL SALES ARE FINAL. Review your order carefully, there are no refunds for any reason.
Limited Capacity | Social Distancing | Masks Required | Assigned Tables | Temperature Checks
Bathrooms are limited to 2 people at a time. They will be cleaned hourly.
If at any time we observe you disrespecting the protocol, you will be asked to leave. NO EXCEPTIONS
Must arrive by 7:30pm or we reserve the right to resell your ticket
Artists:
Notixx
Dreaddy Bear
RETNUH
His music is as versatile as his live sets as he draws influence from artists like Of The Trees, Charles The First and Mr.Bill, while still touching on many different sides of bass music.
https://soundcloud.com/retnuhbasss
Z0RP BTB HUCK.JORRIS
Z0RP gained his influence from artists like Apex Twin with roots in Jazz music as well. His inspirations in the industry include production gurus Supertask and Abelation among many.
Hailing from the bass capital of Colorado, HUCK.JORRIS draws influence from bass-lines laced with hiphop and experimental dubstep with his unique spin of "wook riddim". He also gains inspiration from many through out the experimental dubstep scene including VCTRE, Supertask and Leet.
https://soundcloud.com/huckjorris
https://soundcloud.com/z0rpdubs
Live Streamed at Twitch.tv/yourmomshousedenver
Presented by Boogie Groove Entertainment
Upcoming Events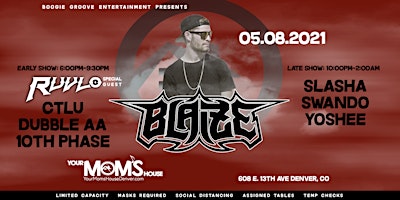 Boogie Groove Entertainment Presents
BLAIZE w/ RUVLO (Early Show)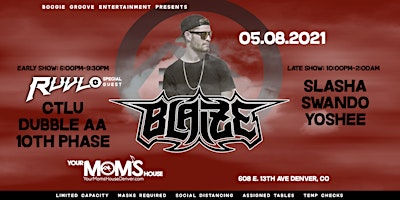 Presented by Boogie Groove Entertainment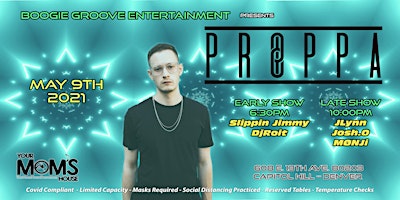 Boogie Groove Entertainment Presents
Boogie Groove Entertainment Presents