MHSR Presents
MHSR Presents: Trippin' Through Time
September 24, 2021
MHSR Presents
MHSR Presents: Trippin' Through Time
September 24, 2021
About This Show
MHSR Presents: Trippin' Through Time
8:00pm-2:00am
Doors: 7:30pm
21+
Tickets available for purchase at www.yourmomshousedenver.com
Happy Hour (Monday thru Friday)
5:00pm-5:30pm: Mini Power Hour w/ $1 Wells & Tall-Boys
5:30pm-7:00pm: $4 You-Call-Its
Artists:
Dirteedisco
Born and raised in Southern California, 29 year old Kree Iraldo has been around various music scenes- from the thriving club life in downtown Los Angeles, to raves in San Bernardino, and to window-shattering house parties in Orange County. Ever since Derteedisco picked up the decks, his unique mixing style of house with disco/90's samples continues to give us a sound that starts parties and brings down the clubs.
https://www.facebook.com/DerteeDisco/
https://www.soundcloud.com/thederteedisco
Horse Venom
Cool dude, cool tunes
NuLif3
https://www.soundcloud.com/nulif3
Born in California and raised in Colorado, NuLif3 brings a unique style to the Clubs and After's. The sounds is illustrated as raw Tech-House/Bass house, Electro, Disco, Techno Music and Breaks that keeps the vibe alive all night. NuLif3 has entered the nightlife scene in Colorado in early 2020 but has been spinning for over 10 years turning heads due to the crazy mash-up and long sets during the after-parties.
Klarity
https://www.soundcloud.com/mhsr_klaritymusic
Denver Local house DJ with influences from Dirtybird, South of Saturn, Night Bass & Desert Hearts.
Macefacekilla
https://www.facebook.com/macefacekilla/
https://www.soundcloud.com/macefacekilla
Macefacekilla is a tech-house slappin' transplant from Phoenix, AZ who serves up spicy booty shaking beats.
Demz
https://www.mixcloud.com/whosdemz
He has been spinning since 2007 and has adapted/evolved in many ways over the years. These days you can catch him jamming many different styles of heavy baseline style's of house.
Dankies
https://www.facebook.com/thatsdankies
https://www.soundcloud.app.goo.gl/uaBK3v9oiqhvJig38
Presented by MHSR
Upcoming Events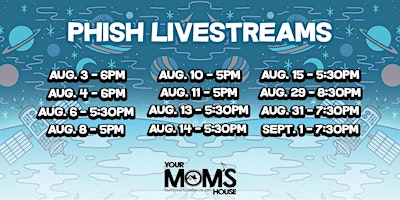 Boogie Groove Entertainment Presents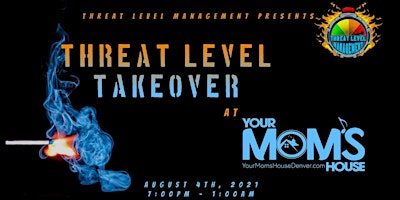 Boogie Groove Entertainment Presents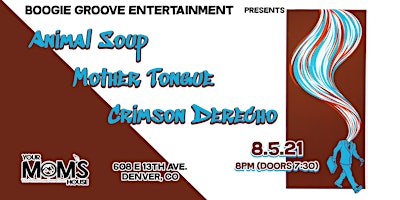 Boogie Groove Entertainment Presents
Animal Soup | Mother Tongue | Crimson Derecho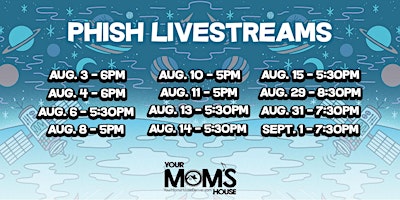 Boogie Groove Entertainment Presents