Boogie Groove Entertainment Presents
Kaz B & Friends Earth Day Spectacular
April 22, 2021
Boogie Groove Entertainment Presents
Kaz B & Friends Earth Day Spectacular
April 22, 2021
About This Show
Kaz B & Friends Earth Day Spectacular
7:00pm-2:00am
Doors: 6:30pm
21+
Tickets available for purchase at www.yourmomshousedenver.com
YMH will be following all guidelines under the Colorado's re-opening order for restaurants.
ALL SALES ARE FINAL. Review your order carefully, there are no refunds for any reason.
Limited Capacity | Masks Required | Assigned Tables | Temperature Checks
Bathrooms are limited to 2 people at a time. They will be cleaned hourly.
If at any time we observe you disrespecting the protocol, you will be asked to leave.
NO EXCEPTIONS
Must arrive by 8:30pm or we reserve the right to resell your table
Artists:
Kaz B
KERZ UNO
https://open.spotify.com/track/0vUfLt4wBMdwAxOb3oTVaD?si=b96a7d12349c4f31
KERZ UNO is a Denver based artist looking to expand your mind through sound pictures!
Kerz Uno / SpiL
Based out of Denver Kerz Uno and SpiL have been creating original hip hop and RnB since early 2009. With the latest album "Awake - Kerz Uno & SpiL" new music is now available on all platforms for your ears to enjoy. Get ready for a vibe, to dance, and enjoy a live music group that will get your mind & body moving. One Love.
SLOESIP
https://itunes.apple.com/us/artist/sloesip/1046183159?ign-gact=3&ls=1
Impossible to ignore, Sloesip'ssmooth southern swagger, powerful personality, and magnetic energy make his presence felt on and off the stage! Blending old school Funk, Pop and Soul with Underground Screwed up Rap culture, Sloesip will take you on a luxurious candy painted cruise in a laneof his own!
Traidz
https://m.soundcloud.com/traidzTraidz51@aol.com
The Antivist
https://soundcloud.com/jonfabrizio?ref=clipboard&p=i&c=1
Ouhf, a bio...um I fart a lot, I love cheeseburgers and weird music. Please sing every song I play and take your clothes off if you feel the need.
Delta 8
https://soundcloud.com/delta8beats
Fiyah
Live Streamed at Twitch.tv/yourmomshousedenver
Presented by Boogie Groove Entertainment
Upcoming Events
Boogie Groove Entertainment Presents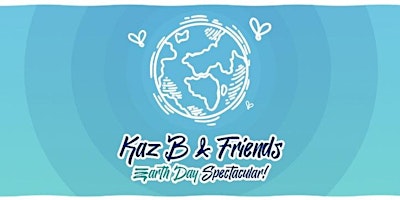 Boogie Groove Entertainment Presents
Kaz B & Friends Earth Day Spectacular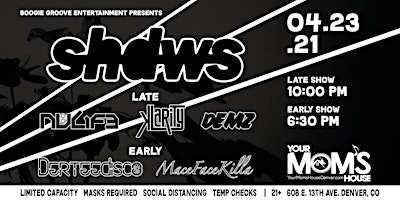 Boogie Groove Entertainment Presents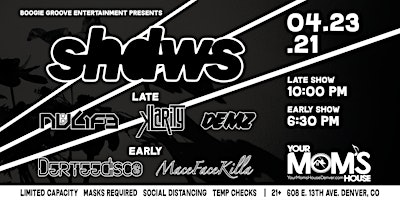 Boogie Groove Entertainment Presents