Boogie Groove Entertainment
Full Spectrum: Autism Benefit Event
August 8, 2021
Boogie Groove Entertainment
Full Spectrum: Autism Benefit Event
August 8, 2021
About This Show
Full Spectrum Autism Benefit
6:00pm - 1:30am
Doors: 5:30pm
21+
Tickets available for purchase at www.yourmomhousedenver.com
Artists:
Chrissy G
A songwriter, singer, rapper, performing/recording artist & Denver Colorado native.
Toussaint Lorenz
https://iboh.net/about
https://spoti.fi/2UVntZo
Bringing high energy, choreography, crowd interaction, and repeatable chants, with his hype man/fellow artist aQuop Stokes, Toussaint and aQuop have been able to win over almost every crowd they've performed in front of.
Paul Junior
Paul Junior isn't even a triple threat, he's much more than that. Paul has made his transition from a Hip Hop artist to a prominent Pop/R&B artist, Soul singer, and producer.
Baha $lim
https://bahaslim.com/
https://spoti.fi/3y0m16Q
With laid back, laconic rhymes and the swagger of his own truths, he is influenced by the greats including Westside Connection, Nipsey Hussle, E40, Tupac and of course Snoop.
.45 LRG aka Justice Rhymes
Justice Rhymes is a Hip Hop lyricist and producer from Denver. From personal experiences and unique word play he creates visuals in every song. Justice Rhymes is considered the .45 caliber of Hip Hop due to his lethal delivery and powerful content. He carries the ability to rock any crowd with his smooth flows and active lyrics.
The Parq
TheParq.com
Colorado music veterans Namm of Lama Squad and Fo Chief teamed up in 2020 to form The ParQ. Namm, who is a founding member of the powerhouse music collective Llama Squad, formed in New York in 1997. Namm has released several hit projects including "Hot Winters", "Boardwalk Empire" and "Ambition".
Trayosha Decker
Trayosha is an up and coming artist from Denver, colorado.
Presented by Boogie Groove Entertainment
Upcoming Events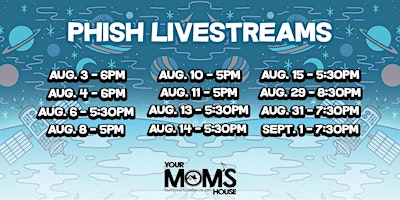 Boogie Groove Entertainment Presents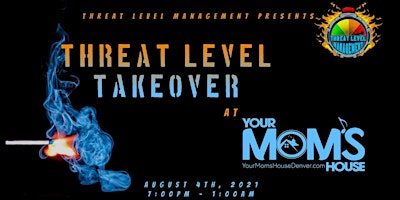 Boogie Groove Entertainment Presents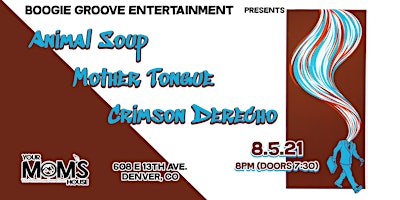 Boogie Groove Entertainment Presents
Animal Soup | Mother Tongue | Crimson Derecho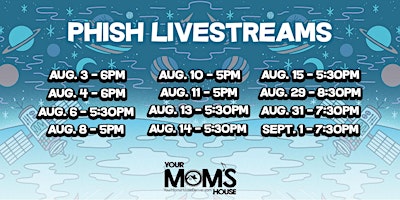 Boogie Groove Entertainment Presents