Boogie Groove Entertainment Presents
Blues and Brass: Badda Boom Brass Band + More
September 9, 2021
Boogie Groove Entertainment Presents
Blues and Brass: Badda Boom Brass Band + More
September 9, 2021
About This Show
Blues and Brass: Badda Boom Brass Band | Wrecking Trains | The Swashbuckling Doctors
8:00pm-10:00pm
Doors: 7:30pm
21+
Tickets available for purchase at www.YourMomsHouseDenver.com
Happy Hour (Monday thru Friday)
5:00pm-5:30pm: Mini Power Hour w/ $1 Wells & Tall-Boys
5:30pm-7:00pm: $4 You-Call-Its
Come before 6:00pm and stay to get a FREE ticket to the show!
Artists:
Badda Boom Brass Band
https://bit.ly/3kBcS0E
The Badda Boom Brass Band infuses the soul of New Orleans street music into an eclectic mix of hip-hop, funk, party anthems and world music.
Wrecking Trains
https://spoti.fi/3zk2GxD
Wrecking Trains is a Denver based Rock/Blues band.
The Swashbuckling Doctors
https://spoti.fi/3kBSoES
The Swashbuckling Doctors continue to amaze and delight with their unique take on ska punk jazz be-bop beat poetry as they sail the high seas of I-25, looking for new fans and delighting children, capybara, and collies at every stop along the way. Don't miss this extravaganza of heart-felt insanity!
Presented by Boogie Groove Entertainment
Upcoming Events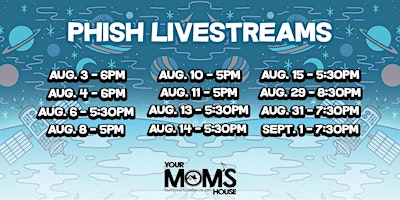 Boogie Groove Entertainment Presents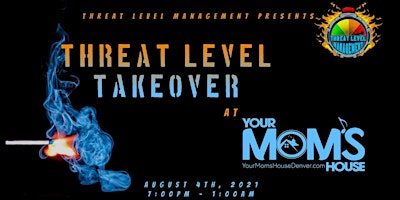 Boogie Groove Entertainment Presents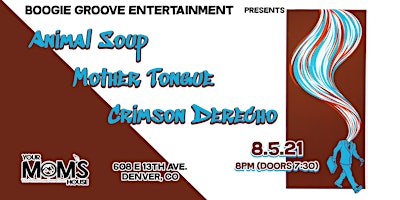 Boogie Groove Entertainment Presents
Animal Soup | Mother Tongue | Crimson Derecho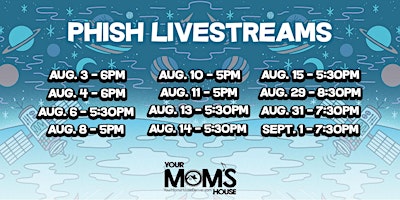 Boogie Groove Entertainment Presents