Presented by Boogie Groove Entertainment
BLAIZE w/ Swando + More (Late Show)
March 13, 2021
Presented by Boogie Groove Entertainment
BLAIZE w/ Swando + More (Late Show)
March 13, 2021
About This Show
BLAIZE w/ Swando + More (Late Show)
DEUCEZ w/ Swando + More (Late Show)
7:00pm-11:00pm
21+
Tables are available at www.YourMomsHouseDenver.com
YMH will be following all guidelines under the Colorado's re-opening order for restaurants.
ALL SALES ARE FINAL. Review your order carefully, there are no refunds for any reason.
Limited Capacity | Masks Required
Social Distancing | Assigned Tables
Temperature Checks
Please stay seated at all times unless going to the bathroom or getting food and do not mingle with other groups.
Bathrooms are limited to 2 people at a time. They will be cleaned hourly.
If at any time we observe you disrespecting the protocol, you will be asked to leave.
NO EXCEPTIONS
*Must arrive by 7:30pm or we reserve the right to resell your table
Artists:
BLAIZE
BLAIZE is a very talented multi genre producer who is coming up in the EDM industry and shows no signs of slowing down. With 10+ years behind him, he stays moving forward and getting closer to making his dreams become a reality. BLAIZE is known for his heavy sound yet melodic influences. Lately his music has been getting placed on major labels such as Buygore, Firepower Records, Kannibalen, as well as Welcome Records which houses his most popular track, Showtime. With over 700,000 streams and counting this track murders the dance floor. BLAIZE is now taking bookings for the start of 2021.
http://soundcloud.com/Blaize323
Swando
Swando Dubz is a Riddim/Dubstep producer from Denver, CO.
https://soundcloud.com/swandodubz
Yoshee
I'm a Riddim artist, I have a heavy metal background, and an audio engineering certification!
https://soundcloud.com/yosheedubz
10th Phase
Bass heavy house artist always bringing HEAT
https://soundcloud.com/10thphase
Presented by Boogie Groove Entertainment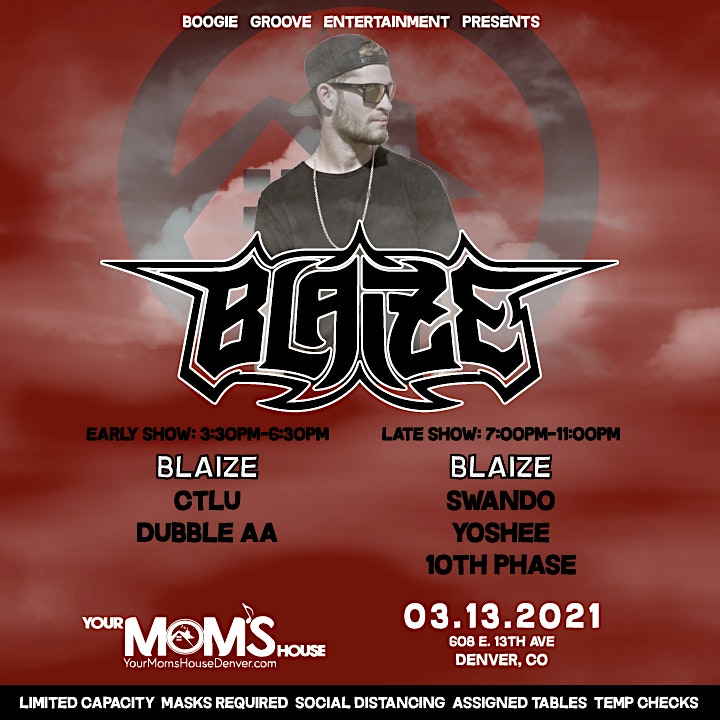 Upcoming Events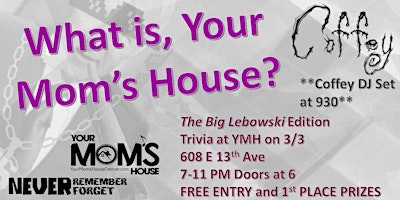 Boogie Groove Entertainment Presents
What Is, Your Mom's House? (Trivia Night) 3/3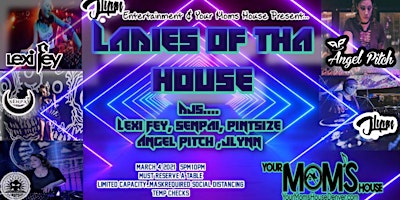 Boogie Groove Entertainment Presents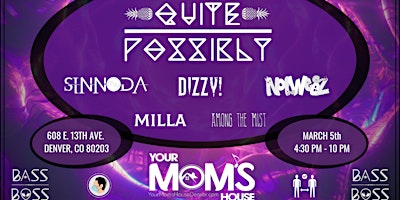 Boogie Groove Entertainment Presents
Chapter III (Bass Boss Anniversary)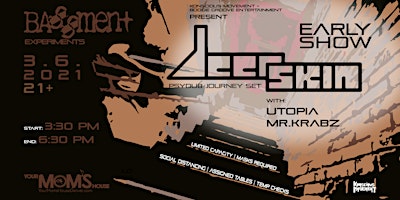 Presented by Boogie Groove Entertainment
BASSment Experiments ft. Deerskin w/ Utopia + Mr.Krabz (Early Show)