Presented by Boogie Groove Entertainment
BASSment Experiments ft. Deerskin w/ shwiLLy + More! (Late Show)
March 6, 2021
Presented by Boogie Groove Entertainment
BASSment Experiments ft. Deerskin w/ shwiLLy + More! (Late Show)
March 6, 2021
About This Show
BASSment Experiments ft. Deerskin w/ shwiLLy + More! (Late Show)
BASSment Experiments ft. Deerskin w/ Utopia + Mr.Krabz (Late Show)
Deerskin Psydub Journey Set
7:00pm-11:00pm
21+
Tables are available at www.YourMomsHouseDenver.com
YMH will be following all guidelines under the Colorado's re-opening order for restaurants.
ALL SALES ARE FINAL. Review your order carefully, there are no refunds for any reason.
Limited Capacity | Masks Required
Social Distancing | Assigned Tables
Temperature Checks
Please stay seated at all times unless going to the bathroom or getting food and do not mingle with other groups.
Bathrooms are limited to 2 people at a time. They will be cleaned hourly.
If at any time we observe you disrespecting the protocol, you will be asked to leave.
NO EXCEPTIONS
*Must arrive by 7:30pm or we reserve the right to resell your table
Artists:
Deerskin
Bass/Tribal/Psychedelic/Trap/Dub/Downtempo
http://www.soundcloud.com/deerskinmusic
shwiLLy
Digging deep for heartfelt production and performance
https://soundcloud.com/shwillyum
Social Turtle
Social Turtle doesn't believe in genres, but his open format bass music will have you smoking strawberries and railing lettuce by the end of the night!!
https://soundcloud.com/SocialTurtle/
Manifest Destiny
He's Manifest, she's Destiny and together this is our Maniftest Destiny
http://Soundcloud.com/ManifestDestinySound
Presented by Boogie Groove Entertainment
Upcoming Events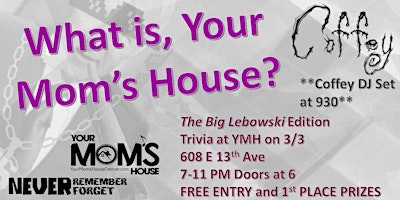 Boogie Groove Entertainment Presents
What Is, Your Mom's House? (Trivia Night) 3/3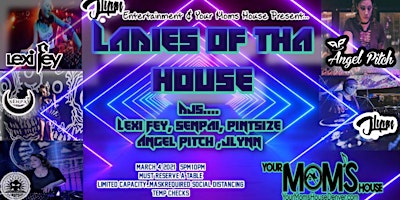 Boogie Groove Entertainment Presents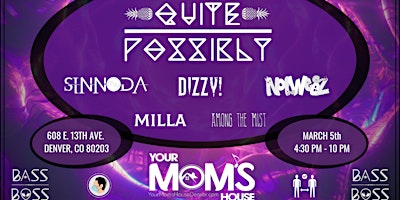 Boogie Groove Entertainment Presents
Chapter III (Bass Boss Anniversary)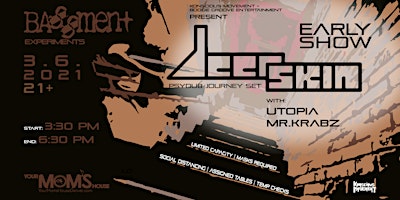 Presented by Boogie Groove Entertainment
BASSment Experiments ft. Deerskin w/ Utopia + Mr.Krabz (Early Show)