Boogie Groove Entertainment Presents
Animal Soup | Mother Tongue | Crimson Derecho
August 5, 2021
Boogie Groove Entertainment Presents
Animal Soup | Mother Tongue | Crimson Derecho
August 5, 2021
About This Show
Animal Soup | Mother Tongue | Crimson Derecho
8:00pm-2:00am
Doors: 7:30pm
21+
Tickets are available at www.YourMomsHouseDenver.com
Happy Hour (Monday thru Friday)
5:00pm-5:30pm: Mini Power Hour w/ $1 Wells & Tall-Boys
5:30pm-7:00pm: $4 You-Call-Its
Come before 6:00pm and stay to get a FREE ticket to the show!
Artists:
Animal Soup
https://www.instagram.com/animalsoupmusic/
https://www.animalsoup.bandcamp.com
Animal Soup is not just another generic rock band, but a unique sounding group that combinesprogressive rock, metal, jazz, and other styles in a way that has never been heard before.
Mother Tongue
https://www.facebook.com/mothatongue/
https://instagram.com/mothatongue
https://soundcloud.com/mothatongue
Mother Tongue is a Hip Hop Jam Band from Broomfield Colorado.
Crimson Derecho
https://www.instagram.com/crimson_derecho/
Here to satisfy you with the rock hits of the 2000s and ready to melt your face!
Presented by Boogie Groove Entertainment
Upcoming Events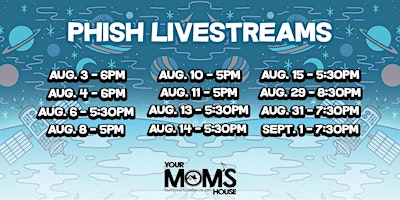 Boogie Groove Entertainment Presents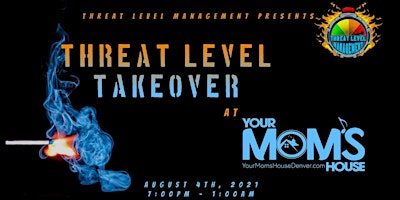 Boogie Groove Entertainment Presents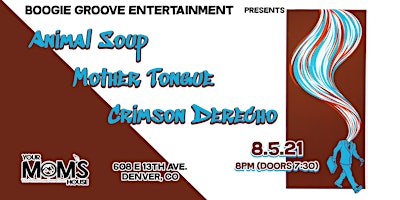 Boogie Groove Entertainment Presents
Animal Soup | Mother Tongue | Crimson Derecho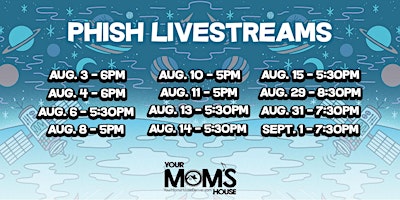 Boogie Groove Entertainment Presents